$34.99
AUD
Category: Military
Soon after the declaration of war on Japan, a secret military reconnaissance unit was established, based on the British Special Operations Executive (known as SOE) and called the Inter-allied Services Department. The unit was tasked with the role to "obtain and report information of the enemy ... weaken the enemy by sabotage and destruction of morale and to lend aid and assistance to local efforts to the same end in enemy occupied territories." In 1943 it became known under the cover name Special Reconnaissance Department (SRD) and included some British officers who had escaped from Singapore. After arriving in Australia, they assembled in Melbourne, forming the nucleus of ISD and together with some Australians established what became the Z Special Unit. Training began in a number of locations around Australia including on Fraser Island off the Queensland coast, In Broken Bay near Sydney, at Careening Bay in Western Australia, at the "House on the Hill" in Cairns and at East Arm near Darwin. From these training areas and bases, Z Special undertook intelligence gathering and raiding missions throughout Southeast Asia including New Guinea, Singapore, Timor, Malaya, Borneo, Vietnam and the Dutch East Indies. The first operation was Jaywick in September 1943. Led by a 28 year old officer from the Gordon Highlanders, Captain Ivan Lyon. Using an old Japanese fishing boat renamed Krait this captured vessel was re-fitted and provisioned for a voyage from Australia to just south of Singapore where it released six commandos in three folding kayaks to attack Japanese shipping in the harbour. They placed limpet mines on several Japanese ships sinking 40,000 tons of shipping. After the successful attack, they paddled south, were picked up by the Krait and successfully returned to Australia. This was followed by Operation Rimau again led by Lyon but this time things went very wrong very early. Identified, they made a fighting withdrawal but all of the raiding party were shot or captured, with the last ten being executed just before the end of the war. Important in Z Special operations were a number of vessels designated "snake boats". Four 66'' modified trawlers were constructed as well as a range of Asian vessels that allowed their operation in South East Asian areas of operation. One Z Special, the last in PNG, set out on the night of the 11 April 1945. Eight operatives were landed on the Japanese held island of Muschu about five kilometres off the coast near Wewak to determine the status of two 140mm Japanese naval guns that had been placed there. These guns would prove dangerous to planned naval landings at Wewak, and allied command needed to know if these were operational. The operatives were launched in four double folding kayaks from a HTML fast crash boat but the current carried them away from their landing position and the surf capsized their boats. The men swam ashore but both their radio and their signal torches had been destroyed and the men had no way of connecting with the return crash boat. Soon their lost equipment was found by the Japanese and a massive search with 1,000 troops scoured the island. Quite soon seven of the eight men had been captured, killed or died trying to swim to the mainland and only one man, Sergeant ''Mick'' Dennis remained. Over the next three days he continued a one man war, fighting off Japanese patrols and living off the land. Unable to do this for long, he took to the dangerous shark and crocodile infested waters and with the aid of a log, paddled to the mainland. Landing on a Japanese controlled beach, he snuck ashore and after further firefights and a difficult journey travelling west, he finally was found by an Australian patrol. Mick Dennis was able to provide valuable information and for his service and bravery, was awarded a Military Medal. During the course of the war, Z Special Unit carried out 81 covert operations in the Southwest Pacific theatre. While the unit was disbanded after the end of the war, many of its techniques would be modified and used by Australian Special Forces to this day.   ...Show more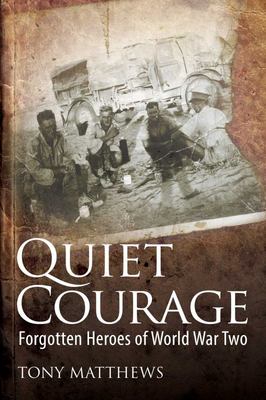 $29.99
AUD
Category: Military
What could induce a young pilot to walk out onto the wing of his burning aircraft at 13,000 feet? Why would a plucky young woman descend into the bowels of a sinking ship knowing that she would almost certainly die there? Why did a family remain on their farm, tending crops while suffering four long yea rs of deadly artillery shelling? How did a former fishing trawler sink one of Hitler's deadliest U-boats, and who were the two Australian nurses who protected wounded patients with their own bodies while experiencing a savage machine-gun attack? Why did a young naval apprentice keep rowing when his hands had been so badly burned, they were literally glued to his oar? And who were the two selfless 'Dad's Army' soldiers who miraculously saved the lives of hundreds of their comrades even when it meant sacrificing their own? These and many other fascinating questions are answered in one of the most remarkable books of gallantry, fortitude and selfsacrifice you will ever read. Quiet Courage: Forgotten Heroes of World War Two is a book about thoughtful, intelligent actions and above all, an enviable capacity for bravery. ...Show more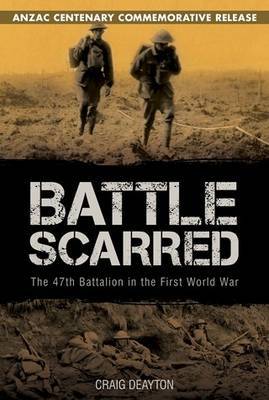 $19.99
AUD
Category: Military
One of the shortest lived and most battle hardened of the 1st Australian Imperial Forces battalions, the 47th was formed in Egypt in 1916 and disbanded two years later having suffered one of the highest casualty rates of any Australian unit. Their story is remarkable for many reasons. Dogged by command and discipline troubles and bled white by ... ...Show more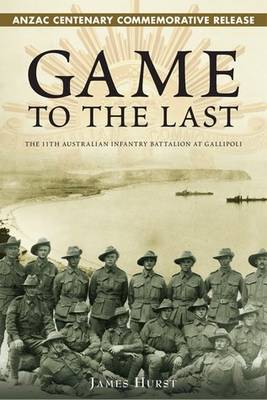 $19.99
AUD
Category: Military
Game to the Last reveals the story of the men who would become "one of the finest battalions which served in the war", the West Australian 11th Infantry Battalion, AIF, during the gruelling Gallipoli Campaign of 1915. The narrative follows the battalion members as they leave their homes and lives in Wes tern Australia, embark for overseas, ... ...Show more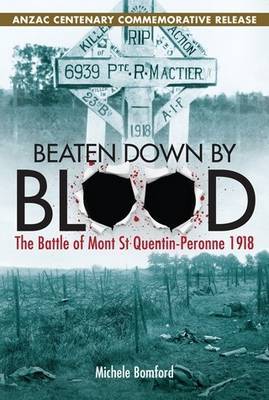 $19.99
AUD
Category: Military
Beaten Down by Blood: The Battle of Mont St Quentin-Peronne 1918 charts an extraordinary journey from the trenches facing Mont St Quentin on 31 August 1918 through the frenetic phases of the battle until the final objectives are taken on 5 September. This is the story, often told in the words of the men themselves, of the capture of the 'unattackable' Mont and the 'invincible' fortress town of Peronne, two of the great feats of Australian forces in the First World War. The Author places real men on the battlefield, describing their fears and their courage and their often violent deaths. The struggle for control of the battle, to site the guns, to bridge the Somme and maintain communications is portrayed in vivid detail. The story also offers a glimpse of the men's families at home, their anxiety and their lifelong grief. ...Show more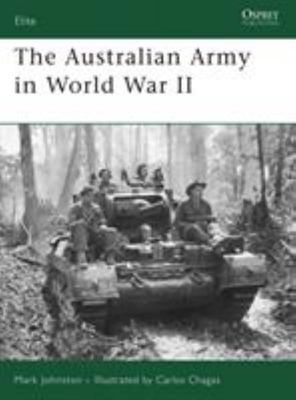 $14.99
AUD
$24.99
(40% off)
Category: Military | Series: Elite Ser.
The Australian infantry were amongst the Commonwealth's toughest and most widely travelled infantry, serving in campaigns including Syria, Greece, Cyprus, Crete, Libya Egypt, New Guinea, and the South West Pacific. Their fearsome fighting reputation was earned first against the Afrika Corps in the Libya n Desert, and then in the hellish conditions of New Guinea, where they held out against the Japanese invasion. Written by a leading expert on the subject and coupled with previously unpublished photographs from private collections and specially commissioned artwork, this book gives a comprehensive overview of the organization, units, uniforms and insignia of the Australian 'Digger'. ...Show more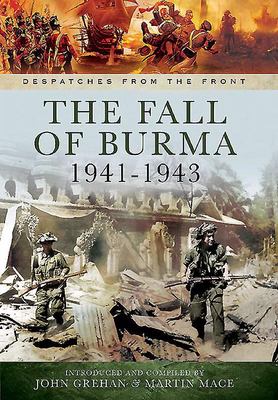 $24.99
AUD
$65.00
(61% off)
Category: Military | Series: Despatches from the Front Ser.
Despatches in this volume include that on operations in Burma between 15 December 1941 and 20 May 1942 by General Wavell; Operations in Eastern Theatre, based on India, March 1942 to 31 December 1942 by Field-Marshall Wavell; Operations in the Indo-Burma Theatre 21 June to 15 November 1942 by Field-Mars hall Auchinleck; and Operations in the India Command 1 January to 20 June 1943 by Field-Marshall Wavell. This unique collection of original documents will prove to be an invaluable resource for historians, students and all those interested in what was one of the most significant periods in British military history. ...Show more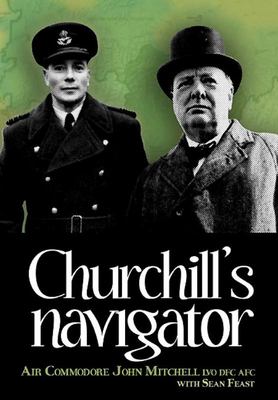 $24.99
AUD
$39.99
(37% off)
Category: Military
John Mitchell had a remarkable career. An RAF Volunteer Reserve officer, he was mobilised on the outbreak of war and just missed going to join a Battle Squadron in France where he would have undoubtedly been killed. He was instead posted to 58 Squadron flying Whitleys, surviving a tour of operations in 1940/41 including ditching in the North Sea. Awarded the DFC, he was sent to the US, becoming involved in the development of the first navigation training simulators with the famous Link Trainer factory. There, he was awarded the US Legion of Merit, signed by Harry Truman. Returning to the UK in 1942, he was personally selected to join the crew of Winston Churchill's private aircraft, one of the early prototype Avro Yorks called Ascalon. For two years he navigated Churchill to conferences around the world - from North Africa to Italy, the Middle East to Moscow, including the famous Teheran and Yalta conferences. He also flew 'General Lyon' (aka HM George VI) on several occasions for which he received the LVO - an order that was personally in the gift of the sovereign for services rendered. After the war he enjoyed an eventful career as an air attache, including an intelligence posting to Moscow and was senior navigation officer for the long range exercises over the Pole in the converted Lincoln, Aries III. His is an exceptional story, told with wit and verve to acclaimed author Sean Feast who has added his usual authoritative and informed insights. It is a worthy successor to Sean's latest book "A Pathfinder's War". ...Show more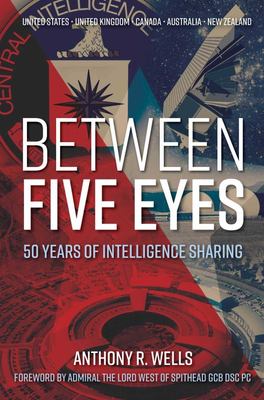 $29.99
AUD
Category: Military
UK-US intelligence and the wider Five Eyes community of Canada, Australia and New Zealand is primarily about one main thing, relationships. In this remarkable book, Anthony Wells charts fifty years of change, turmoil, intense challenges, successes and failures, and never-ending abiding UK-US and Five Ey es relationships. He traces the development of institutions that he firmly believes have sustained and indeed may have saved the free world, Western democracies and their allies from those ill disposed to the value system and culture of our nations. More than a chronology of the UK-US intelligence community during this fifty-year period, it is also a personal insight into key relationships and how the abiding strength of the US and the UK and its Five Eyes allies relationships. The author has relied on his own extensive unclassified collection of papers, personal notes, diaries, as well as his family library for source material to create this book. ...Show more
$29.99
AUD
Category: Military
He escaped from Singapore's Changi prisoner of war camp to become one of Australia's greatest World War II guerrilla fighters. 'The way I look at it is this...When you're behind the line and get yourself into trouble, you've got to get your bloody self out irrespective of anybody else. That's why I lik e it.'Scottish-born but a Queenslander to the bone, Jock McLaren was a true Australian hero. As a prisoner he escaped twice, first from Changi and later from the infamous Sandakan POW camp in Borneo. After paddling a dugout canoe across open sea, he fought for two years with American-led Filipino guerrillas, his exploits so audacious the Japanese put a price on his head.At the helm of his 26-foot whaleboat, the Bastard, McLaren sailed brazenly into enemy-held harbours, wreaking havoc with his mortar and machine guns before heading back out to sea. In early 1945 he joined Australia's secretive Z Special Unit, parachuting into Borneo to carry out reconnaissance and organise anti-Japanese resistance ahead of Allied landings. He cheated death on numerous occasions and saved his own life by removing his appendix without anaesthetic, using 'two large dessert spoons' and a razor blade. Drawing on Allied and Japanese wartime documents, Bastard Behind the Lines brings the story of a courageous digger vividly to life and throws light on a rarely explored aspect of Australia's Pacific war.  ...Show more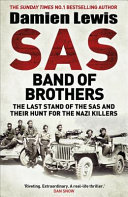 $32.99
AUD
Category: Military
The new SAS epic from bestselling military historian Damien Lewis We share the triumphs and tragedies of a group of elite soldier trailblazers as they commit daring raids behind enemy lines in 1944, manage an against the odds escape to victory, and then seek post-war retribution for the terrible murder of their captured comrades. SAS BAND OF BROTHERS is replete with action, peppered with great characters, and features two of the most daring escapes of WWII. It ends with the hunted becoming the hunters - a group of men intent on seeking out the Nazis responsible for their brethren's deaths, on an ultra-deniable SAS mission to avenge a war crime. This is the new bestseller from Damien Lewis. It bears all his hallmarks - an epic, page-turning special forces narrative based on hitherto unavailable personal testimony and private family archives. ...Show more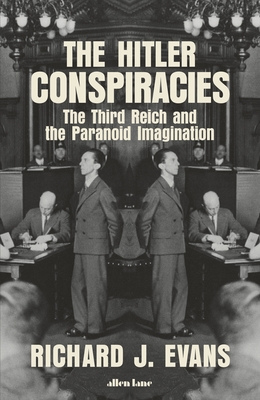 $39.99
AUD
Category: Military
The renowned historian of the Third Reich takes on the conspiracy theories surrounding Adolf Hitler and the Nazis, in a vital history book for the 'post-truth' age The idea that nothing happens by chance in history, that nothing is quite what it seems to be at first sight, that everything is the result of the secret machinations of malign groups of people manipulating everything from behind the scenes - these notions are as old as history itself. But conspiracy theories are becoming more popular and more widespread in the twenty-first century. Nowhere have they become more obvious than in revisionist accounts of the history of the Third Reich. Long-discredited conspiracy theories have taken on a new lease of life, given credence by claims of freshly discovered evidence and novel angles of investigation. In The Hitler Conspiracies renowned historian Richard Evans takes five widely discussed claims involving Hitler and the Nazis and subjects them to forensic scrutiny: that the Jews were conspiring to undermine civilization, as outlined in The Protocols of the Elders of Zion; that the German army was 'stabbed in the back' by socialists and Jews in 1918; that the Nazis burned down the Reichstag in order to seize power; that Rudolf Hess' flight to the UK in 1941 was sanctioned by Hitler and conveyed peace terms suppressed by Churchill; and that Hitler escaped the bunker in 1945 and fled to South America. In doing so, it teases out some surprising features that these, and other conspiracy theories, have in common. This is a history book, but it is a history book for the age of 'post-truth' and 'alternative facts': a book for our own troubled times. ...Show more