$14.99
AUD
Category: GAMES & TOYS | Series: Felt Creations
Use your imagination to create stories by sticking the felt pieces on the feltboard. Combine with different sets for more possibilites. Ages 3+.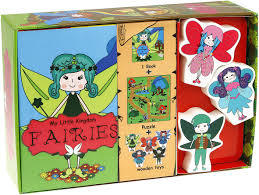 $9.99
AUD
$14.99
(33% off)
Category: GAMES & TOYS
Meet all the magical fairies who live in the woods of the kingdom by reading the 12 page fully illustrated board book. Then turn the box into a fairy home and use the three wooden fairies and the fairy landscape puzzle to create your very own stories.

$14.99
AUD
Category: GAMES & TOYS | Series: Felt Creations
Use your imagination and create a wonderful world of fantasy with Felt Creations. Stick the felt pieces on the Feltboard and rearrange them any time. Collect and combine different Felt Creations sets and formulate an infinite number of stories. Age: 3 years and up; Felt Board Size: 38 x 32cm. 3 & ov er.  ...Show more